We're almost there!
While this kitchen project has taken longer than expected, we have also replaced the roof and all the windows in the house during the same timeframe. We're almost done with the kitchen: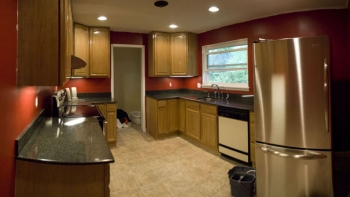 New cabinets, lighting/wiring, flooring, plumbing, appliances, and a vented hood have been installed. The old textured drywall was patched, floated, and sanded smooth. We used Benjamin Moore Aura paints on the walls and ceiling - near zero emissions and amazing coverage. Our custom color is called "George Special," and is made of 75% Caliente (deep red) and 25% Salsa Dancing (pumpkin/terra cotta).
We still have some detail work to complete, including installation of the new stainless steel appliances, crown molding, and trim. I am so happy with the results - the entire house feels different.